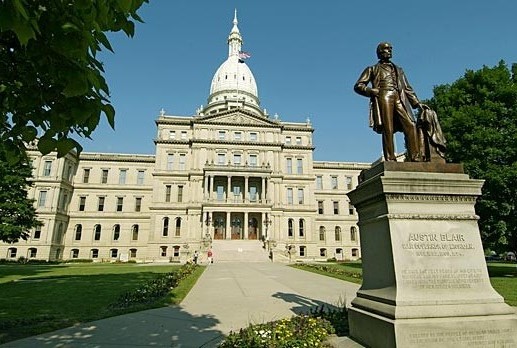 13 Oct

Trafficking Bills Introduced by Michigan Republicans

In April 2016, several anti-human trafficking bills were introduced to the Michigan House of Representatives, particularly focusing on the trafficking of juveniles.
Human trafficking bills introduced by Michigan Republicans
by Brad Devereaux, April 14th, 2016
LANSING, MI — Human trafficking bills were introduced this week in the Michigan House of Representatives that aim to protect victims forced into wrongdoing and set harsher penalties for people convicted of sex trafficking.
House Bills 5542, 5543 and 5544 were introduced Tuesday, April 13, by State Representatives Laura Cox, R-Livonia, Nancy Jenkins, R-Clayton, and Gary Howell, R-Lapeer, based on legislative recommendations from the Michigan Human Trafficking Commission, Michigan Attorney General Bill Schuette reports.
Cox introduced House Bill 5542 that would make it easier for victims of human trafficking to expunge local ordinance prostitution violations from human trafficking from their criminal record.
"We have a duty to the victims of these horrendous human trafficking crimes to ensure their safety and help them take back their lives," Cox said. "I'm confident that these pieces of legislation will help us move a step closer to that goal."
She said the issue was left out unintentionally when a related bill package became law two years earlier.
"If somebody is a victim of a crime, we want to make sure they're treated as a victim," she said.
Howell's Bill, House Bill 5433, is specific to juveniles. It would allow expungement of local ordinance prostitution violations of juveniles convicted of human trafficking related crimes.
"These people have been victimized by criminals who forced them into wrongdoings they didn't want to commit in the first place," Howell said. "If they are looking for a new lease on life, their criminal record victimizes them a second time.
"They don't deserve that."
Employment is one area that could be adversely affected for people with the marks on their records, Howell said.
"In the age of the internet, the information can go anywhere," he said. "It's really going to help in every aspect of their life to not have that hanging over their head."
Jenkins introduced House Bill 5544, which would increase the penalty to 15 years for human trafficking involving commercial sex, also known as sex trafficking.
Jenkins said the legislation gives "a more comprehensive overview" of the human trafficking law that was passed in 2015, by providing greater penalties in sex trafficking cases and permitting human trafficking victims to fully clear their past convictions.
"We must do everything we can to help the victims of human trafficking reclaim their lives," Schuette said. "My hope is that this legislation will help free victims from the legal barriers that could hold them back from getting a good job, registering for college or even getting a fair day in court as they rebuild their lives."
The bills were assigned to the House Criminal Justice Committee.